About Us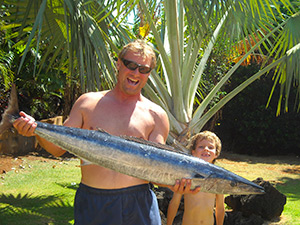 Fishermen E.J. and Erik
We are often asked by guests how we got so lucky to be able to live on Kauai! Most people think we just came to Kauai, loved it and decided to stay. We did have a great love of Kauai, but the transition to move to Kauai was not quite that easy.
In 1995 we started to plan our move to the Hawaiian Islands... of which Kauai was always our favorite! Moving to Hawaii was a natural move for E.J., who loves deep sea fishing, and also for Diane, who loved tropical Islands and warm weather!
After lots of research, and staying in all the main Hawaiian Islands, we weren't sure we could make our favorite island, Kauai, work for us. Hurricane Iniki had all but destroyed the infrastructure and economy of Kauai, but with some luck we finally found the perfect opportunity in a perfect location, and started our dream... Kauai Cove!
We later added the Poipu Kai House, which we painstakingly designed and built in 2000. This is a spectacular property, bringing to life the Royal Kauai Suite & the Palm Room to Kauai Cove. We were then blessed in 2003 to have our wonderful son Erik Kai, who enjoys the ocean, surfing and living on Kauai with his great friends!
Testimonials & Reviews
FROMMERS -
"...Immaculate cottage ... Perfect private getaway ... Close enough that you can walk to sandy beaches, great restaurants, and shopping, yet far enough off the beaten path that privacy and quiet are assured"

BEST PLACES TO KISS -
"Hidden away on a quiet residential street, these three vacation rental units are clean, bright, and perfectly suited for a couple in love."

MOON HANDBOOKS / KAUAI -
"These are comfortable units that remind you in every way that you are on vacation in the tropics."